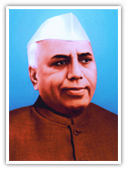 Late Hon. Yashwantrao Chavan, the founder of our college was a visionary totally dedicated to active social reforms the right way. It therefore becomes our moral duty to unravel this great visionary's personality.

Yashwantrao Chavan was born to a farmer family in a small village Devrashtra in the rural surroundings of Karad on 12th March 1913. Inspired by the national freedom movement in his teen years, he devoted himself entirely to it and went to jail on innumerable occasions, where he learnt a lot from other freedom fighters.

He was an internationally renowned orator and an educationist, a great leader and social worker, a politician, a lawyer and a litterateur but above all a humanitarian. He had a clear vision about what the country needs to do for development after independence and he recognised education and enterprise as the key facets of this. Therefore from the start of his career, he endeavoured to establish educational institutions and the cooperative model for sugar and other industrial development. He began his political career as the first Chief Minister of the newly formed state of Maharashtra to pave the way to its manifold development. In 1962, when he received the call from Delhi to defend his country against aggressors, he unflinchingly accepted the awesome responsibility of the Defence Ministry in Mr. Jawaharlal Nehru's cabinet. From thereon he never looked back. He went on to hold important ministries such as the Home Ministry, Finance Ministry and the Ministry of External affairs in the central government throughout his career to finally become the Deputy Prime Minister.

He was also honoured by five different universities that conferred the prestigious D.Litt. degree for his exceptional service to society. An accomplished litterateur, he was in the process of writing his autobiography in three chronological volumes entitled `Krishna Kath, Sagar Teer and Yamuna Kath but was able to complete only the first when the end came.