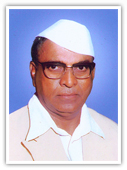 Late Hon. Shri P. D. Patil was a close associate of Hon. Shri Yashwantrao Chavan and was also one of the founder members of this college. He was entrusted the responsibility of developing the college and as Chairman, since its inception till his last breath on 17th September 2008, he ably guided it to reach the pinnacles of glory. Under his able leadership, the Society and College have taken great strides in enhancing their reputation and status.
Born into a very poor farmer family, he took his schooling in the very school his mentor studied – Tilak High School, Karad. He completed his early college education in Baroda and returned to Kolhapur for his study of law and began his practice in 1943. His fondness for social service propelled him into the Karad Municipal Council in 1952 of which he soon became the President (in 1953), a position he held till 1996 a record in itself. He had an uncanny ability to foresee problems and be ready with excellent solutions beforehand and being a well read man with a tremendous knowledge of Science, Engineering and Economics he applied this to his social service. As a result, his period saw the rocketing development of Karad, an era that is today considered the Golden one. He has therefore rightly been considered the architect of modern Karad.
He also took active part in the politics of the state first as a Member of the Legislative Council (MLC), then elected three times to the state legislative assembly (MLA) where he followed the ideals of his mentor in using all his boundless resources for the upliftment of the common man.
It is indeed going to be a tough task to find a suitable replacement for him and his absence is being felt very badly by us all.